School Year 2021 – School Information Session
オンライン入園説明会では、OISについてのスクール概要説明やカリキュラム、クラスの様子などをご説明いたします。
During Information Session, you can meet the teachers, the school community, and discover more about the International Baccalaureate.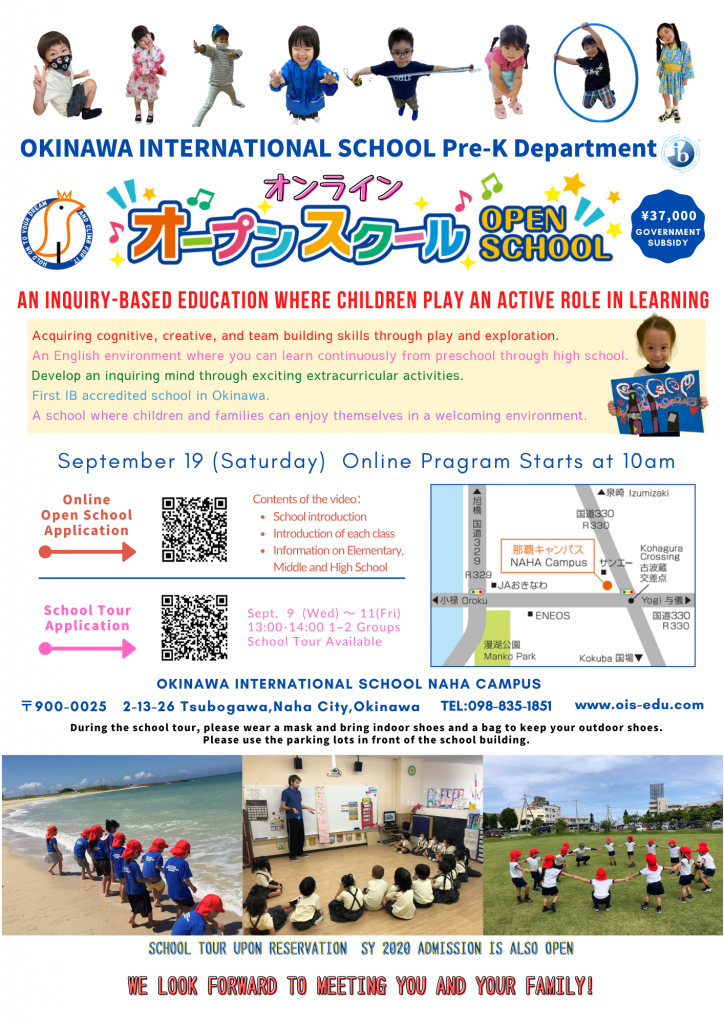 < 保育部・幼稚部 @ 那覇キャンパス >
対象: 乳幼児のお子さまと保護者さま
    将来インターナショナルスクールへの入園・入学を検討されている方
Participants: 0-year-old to 6 years old students and parents who are interested in joining OIS in the Future
主催:オキナワインターナショナルスクール Okinawa International School
日程:9月 19日(土) 10:00からビデオ配信(新型コロナウイルス感染拡大予防のため)
Date: September 19th (Sat.)  10:00 AM  Video Distribution (To prevent the spread of Covid-19)
  ※ 随時見学可能(予約あり)
  ※ School Tour is available upon Reservation
ビデオ配信お申し込みフォーム(Application Form):https://forms.gle/HN29XafAHrFkStQP7
9月9日(水)~11日(金) 13:00-14:00 1組~2組 保護者見学可。
The school tour is available upon reservation at 1:00-2:00 pm on September 9 to 11. 
申し込みフォーム(Application Form):https://calendar.google.com/calendar/selfsched?sstoken=UUxaajZaQjFZN2NOfGRlZmF1bHR8ZjU0ZWI4NzkwMDA4MjU1M2U1YjgzNjZjODZkYzA1MTM
<クラス見学へお越しの際のお願い>
<When you come to the School Tour>
お越しの際には、マスク着用の上、 靴袋、スリッパ等の室内履きをご持参くださいますよう、お願いいたします。 駐車場は、スクール前の駐車場がご利用できます。
Please bring a mask, a shoe bag, and your indoor shoes. You can use the parking space in front of our school building.
場所:沖縄県那覇市壺川2-13-26-4F(電話番号:098-835-1851)
Address: 2-13-26-4F, Tsubogawa, Naha City(TEL:098-835-1851)