Elementary Department:EXPRESSIONS
EXPRESSIONS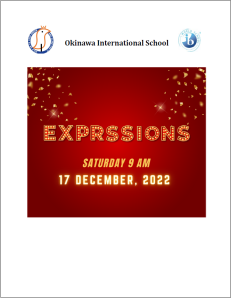 We will hold "EXPRESSIONS" as an outcome of our exploration of one of our themes,
"How we express ourselves", on the following dates The school will hold an "EXPRESSIONS" (arts and crafts show) on the following dates.
This is an important opportunity for each grade level to present the results of their studies in accordance with their respective themes.
The children will be independently planning and creating their performances in preparation for this day.
We would like to invite you to the event, but in order to prevent the spread of coronavirus, we would like to invite you to watch the children's activities online.
Please fill out the application form below to register.
Application deadline: December 16, 2022, 12:00 noon
Expressions 2022 Application for Live streaming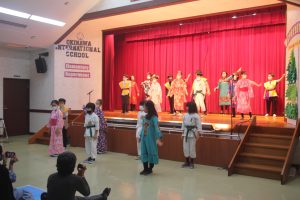 <2021 EXPRESSIONS>
===
Date: Saturday, December 17, 2023
Time: Varies according to each grade.
9:25 – 9:45 / Grade 1:Contemporary Theatre Performance; Dora The Explorer
10:05 – 10:25 / Grade 2:Musical Theatre Performance(G2 Adaptation of Trolls Movie)
10:45 – 11:05 / Grade 3:A Page to Stage Drama : Can I Call It My Hometown
11:25 – 11:45 / Grade 4:Traditional Clothing: A Journey Around the World