Organigram
In OIS, each PYP class is taught by two teachers. This provides a unique learning environment to children, parents and teachers can engage in accurate communication in English and Japanese. OIS teachers have minimum of three years teaching experience and formal teaching license. Also, in an effort to provide high quality education, teachers participate in workshops and seminars in Japan and abroad, and they are continually working to improve and acquire knowledge and educational technology integration techniques.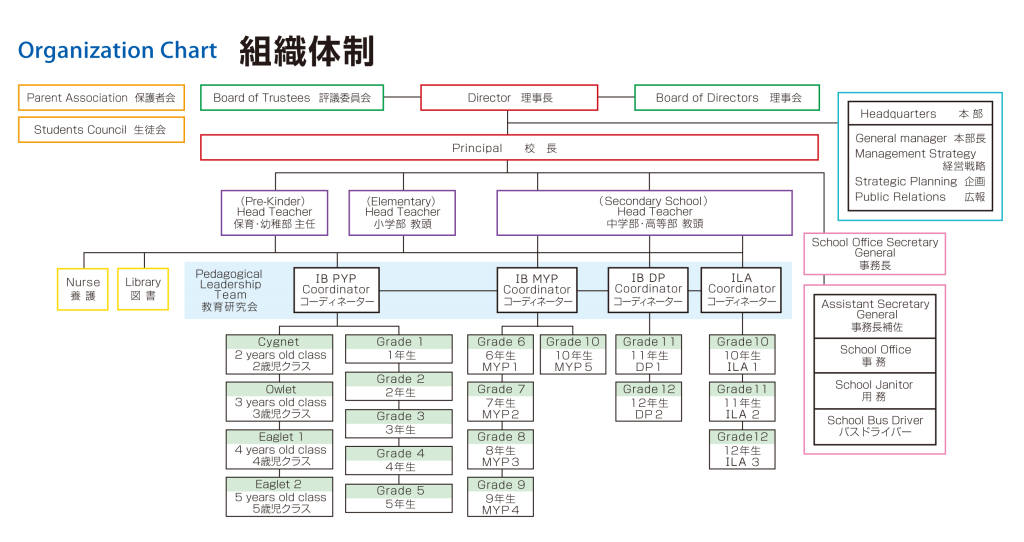 Parents' Association
Building good relationships, teamwork, and trust amongst the OIS community
In parallel with students' annual events, we have an operational organization parent association where educational improvement and development for students are aggressively discussed. Parent associations in each department consists of a chairperson, a vice-chairperson and seven to eight board members, and provide support in regular meetings and events sponsored by parent associations and events of each department. Also, it values the activities to watch over students' growth together with parents through workshops for deepening the understanding of IB education, and conducting teacher-parent meetings as well as teacher-parent-student meetings.
NEST
Parent associations of Preschool and Kindergarten
FOREST
Parent associations of Elementary
CLOUD
Parent associations of Middle School
IB Workshop
IB Parents Workshop
Gardening Event
Community Service
Please feel free to contact us if you need any further information.
Phone number [8:30 - 16:45(Weekdays only)]
OIS will hold on international School guidance counseling.