Employment
FACULTY and STAFF RECRUITMENT
Qualification Requirements
OIS is looking for highly motivated and passionate teacher who understand the mission and philosophy of International Baccalaureate education, who think of their students' well-being and learning, and who eagerly prepare their teaching materials in an inquiry approach.
All interested applicants must send the necessary documents (resume, application letter, transcript of records, teacher's license) through email PDF attachment to the headmaster of OIS at headmaster@ois-edu.com .
FACULTY RECRUITMENT for Summer School
※ Summer School Instructors Wanted! / サマースクール期間中の講師募集
OIS will hold its 21st Summer School from July 24 to August 11, 2023.
Students who attend the summer school are divided into kindergarten, elementary, and middle/high school.Since the summer school will take place entirely in an English-language environment, instructors are also required to teach and conduct activities in English.
We accept applications from university students.
If you are interested in applying, please send your resume and curriculum vitae in English (or proof of enrollment if you are a student) to the address below.
Email address: ois-summer@ois-edu.com
OIS Summer School Teacher Application Requirements
・Experience in teaching English to preschoolers, elementary, junior high, and high school students.
・University students who are interested in early childhood education.
・Native English speaker or equivalent
・Applicants from outside Okinawa must be able to pay for their own transportation to Okinawa and accommodation during their stay.
・Able to participate in online meetings prior to the program.
----------
OISでは21回目のサマースクールを2023年7月24日から8月11日まで開催します。
サマースクールへ参加する生徒は幼稚部・初等部・中高等部に分かれます。サマースクールは全て英語環境で行われるため、講師も英語による授業・アクティビティーが求められます。
講師は大学生から応募可能です。
ご希望の方は英文履歴書と英文職務経歴書(学生の場合は在学証明書)を添付して下記までお送りください。
応募書類送付先: ois-summer@ois-edu.com
OISサマースクール講師応募条件
・幼児・児童・中高校生への英語指導経験者
・幼児・児童教育に興味のある大学生
・英語ネイティブあるいはそれと同等の英語力
・県外からの応募の方は沖縄までの交通費及び滞在期間中の宿泊代を負担できる人
・事前のオンラインミーティングに参加できる人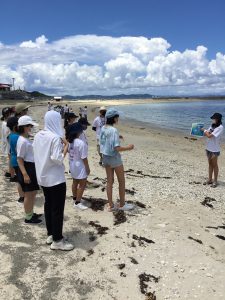 Please feel free to contact us if you need any further information.
Phone number [8:30 - 16:45(Weekdays only)]
OIS will hold on international School guidance counseling.