Open Campus
OPEN CAMPUS / 一般授業参観
(日本語) IB教育のリアルを見にいらしてください。
IB初等教育課程(PYP)、中等教育課程(MYP)、高等教育課程(DP)をすべて見学できるのは沖縄ではOISだだけです。IB教育に興味を持っている方はどなたでも参加可能です。
高等部はILAクラスへの参加も可能です。
南城キャンパス
PYP(初等部)    6 月 5 日(月) - 6 月 9 日(金)09:30 – 12:15
MYP(中等部)  6 月 5 日(月) - 6 月 9 日(金)09:30 – 12:15
DP / ILA(高等部)  6 月 5 日(月) - 6 月 9 日(金)09:30 – 12:15
09:30 – 09:40 オリエンテーション
09:40~ 授業参観及び個別相談(初等部-高等部まで参観してください)
お申込はこちら
===
PYP(幼児部)5 月 29 日(月)- 6 月 22 日(木)午前
お申込はこちら
---
Open Campus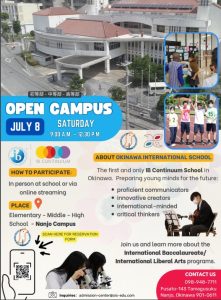 Date : July 8, 2023
Place:Nanjo Campus
<Schedule>
8:45 – Registartion starts
9:00 – 9:50 Opening & Information session
10:00 – Class observation (Period 1)
11:00 – Class observation (Period 2)
12:00 – Free inquiry session
12:30 – End
Application:Here
=====
Naha Campus
Preschool and Kindergarten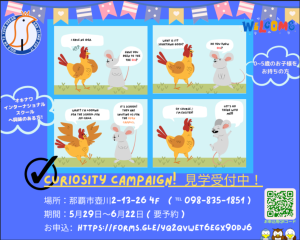 Date:May 29 ( Mon. )- June 22, 2023 ( Thu. )
Time:Morning time
Application:Here
---
オープンスクールでは、OISについてのスクール概要説明やカリキュラム、クラスの様子などをご説明いたします。
During Open School, you can meet the teachers, school community, and discover more about the International Baccalaureate.
個別入学相談・スクール見学 随時開催しております。
ご希望の際は、担当との日程調整などがございますので、事前にお問い合わせのほどお願いいたします。
お問い合わせ - Contact -
  初等部・中学部 >>> 南城キャンパス:098-948-7711
  保育・幼稚部 >>> 那覇キャンパス:098-835-1851
✉ admission-center@ois-edu.com もしくは お問い合わせフォームはこちら
Please feel free to contact us if you need any further information.
Phone number [8:30 - 16:45(Weekdays only)]
OIS will hold on international School guidance counseling.