Summer School
Welcome to OIS Summer School 2018!
It's a common wish of parents that their child/ren to improve their English skills during summer vacation.
The essence of learning is in daily life. Even if you have a chance to learn English, the value is reduced by half without English environment.
We provide the excellent academic and fun programs that it can enhance children's English skills through everyday life and social experiences.
We hope many children to join our summer school to learn and enjoy together in the International Baccalaureate School!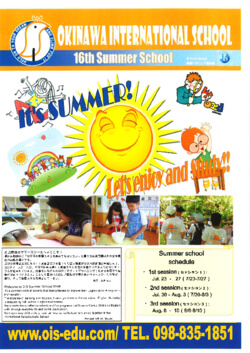 ※We will stop accepting applications when a class reaches its maximum number of students.
There are two ways to apply:
(1)Fill out the application form with picture and submit it to the office. We accept mailing, FAX and E-mail.
☆Download the application form:
(2)Submit the Registration form on the OIS homepage.
☆Registration form:
Please feel free to contact us if you need any further information.
OIS will hold on international School guidance counseling.